The balcony tables have a unique and, above all, smart design. The table can easily be mounted to nearly any balustrade. It basically floats on the balcony and therefore needs no supports. The table height is easily adjustable (a height of 70 cm is our advice for optimal comfort).
The table has a maximum width of 205 cm, which gives your balcony a nice spacious effect. A maximum depth of only 40 cm, leaves plenty of room to move around on your balcony.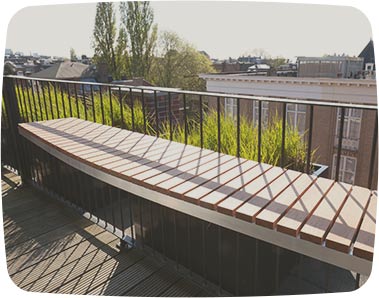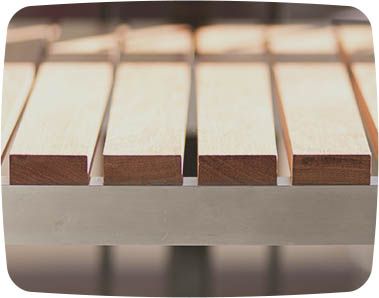 A balcony table from Balkontafels.nl is made from durable materials and is of superior quality. For instance, we use Jatoba wood. This wood is durable and wear-resistant, properties our balcony tables have as well. It is also a type of wood that has a warm red-brown colour, which will naturally turn grey over time.
The bent design with crude aluminium (unprocessed) gives the balcony table a tough look, but the most important thing is that this means the table is not affected by weather conditions. No maintenance, yet still years of careless enjoyment of a nice table in every season.

Low maintenance & Winter proof
Floating construction; no supports and height-adjustable
High quality with strong innovative design
100% handmade in Holland
Tables for up to 6 persons
Easily suspended by two persons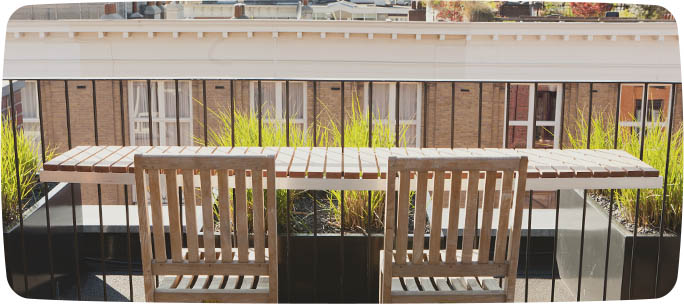 You can easily mount the table yourself on nearly any type of balcony. The unique floating construction makes supports obsolete and lets you adjust the height as much as you like. Suspending the table is best done with two persons.
Attention: This is a table and not a bench; the maximum load is 30 kg. Suspend at least 70 cm above the floor. Ideal for a small balcony. With a length of 135cm suited for max 4 persons. Is standard delivered with a 40cm depth. Ideal for a medium balcony. With a length of 170cm suited for max 5 persons. Is standard delivered with a 40cm depth. Ideal for a big balcony. With a length of 205cm suited for max 6 persons. Is standard delivered with a 40cm depth.